Parks
Blading Camp is the Worlds Only 100% All Inclusive Skate Camp which means all 8+ skate park entrance fees are included. Water, Fruit, Juice and Snacks will be provided at each skate park. As well as 1 on 1 lessons for any rider who wishes to learn. Also, group actives and warm up exercises. Get ready to learn, laugh and have a lot of fun with the best, most legendary Coaches in the game. *Parks can change according to the daily schedule and how the riders respond to riding everyday. We follow an strict daily plan as be sure we hit as many as possible.

1. Málaga Rock
The Largest out door skate park in Europe is waiting for you. This skate park has everything you could ever dream of riding. From a great mini ramp, to a huge vert ramp, a large street course with rails and ledges, lots of open space, a pump track and a large bowl section with a big jump box. Guaranteed, this skate park has something for everyone. Be sure that you won't be getting board anytime soon at this park! Just being able to ride this legendary park makes the trip to Málaga all worth it, but wait, this is just our first park of the tour, there's way more to come.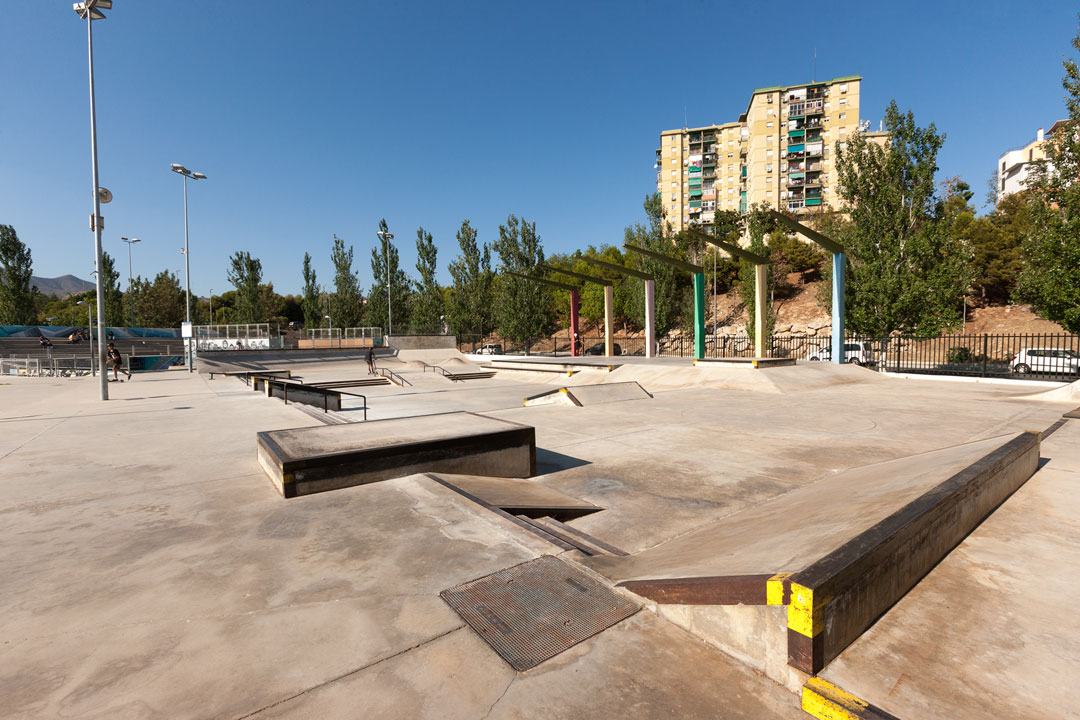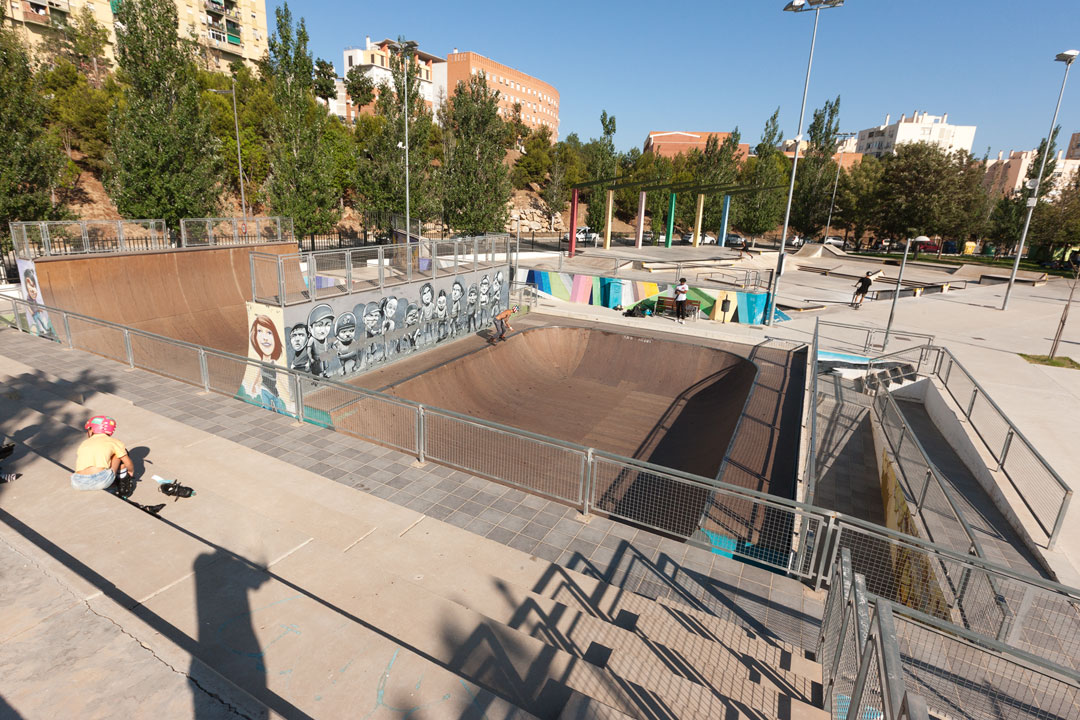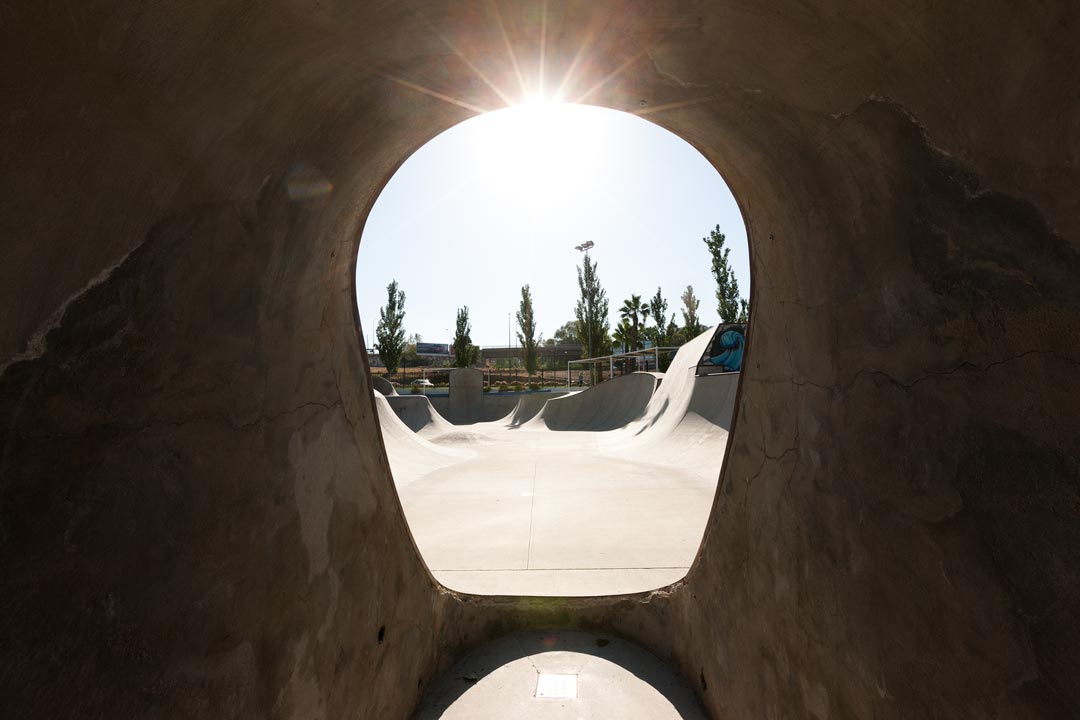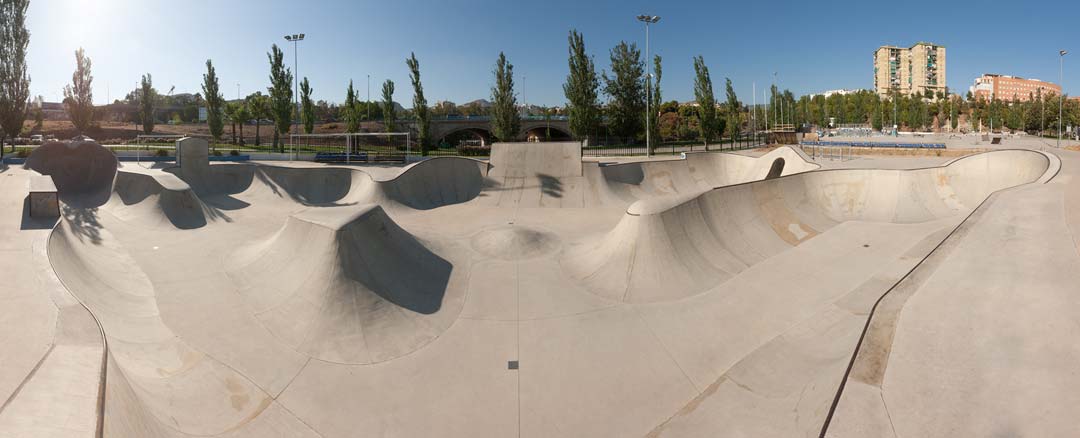 2. Antequera
This park! Antequera is tucked away in the mountains only 10 minutes away from our #skatecamphouse . This park has so much to offer. Easily the best jump box on the whole tour is here. There is a large street section with grind boxes going up, across and down. There are small down rails to practice on, as well as flat rails. There are 3 different sizes of Spine Ramps here as well as different sized quarter pipes all over the park to make sure you have that extra speed you need. There is a huge wall ride as well as some very cool transfers and gap just waiting for you to discover. Lots of the Riders in the past say this is their favorite park. Maybe it will be yours too?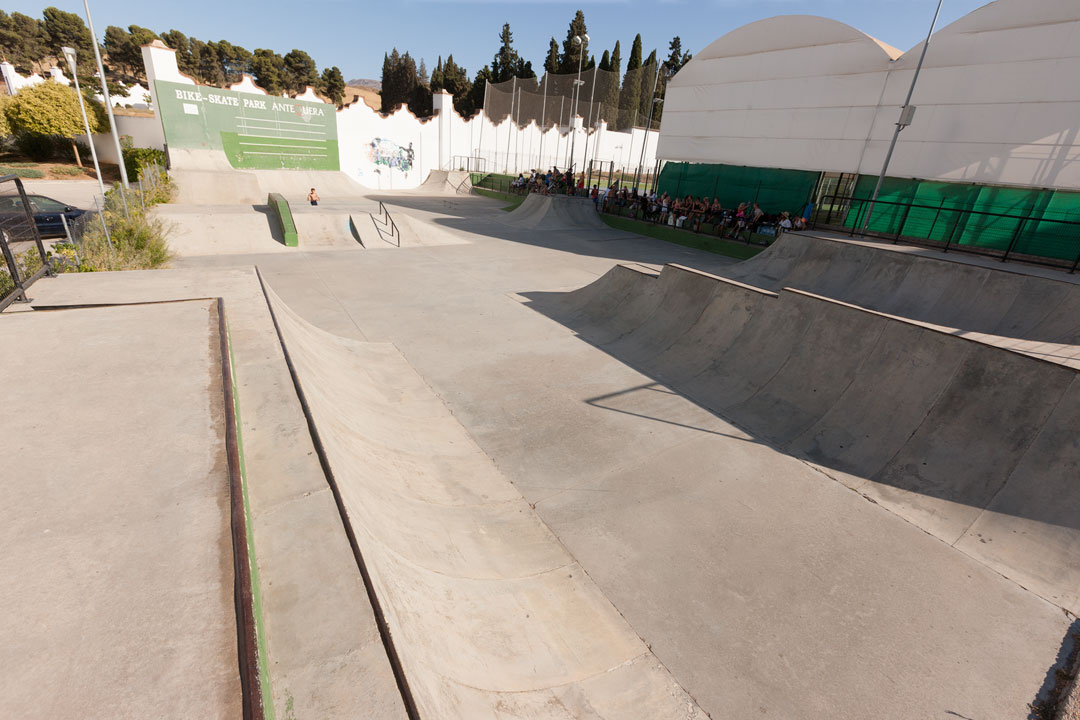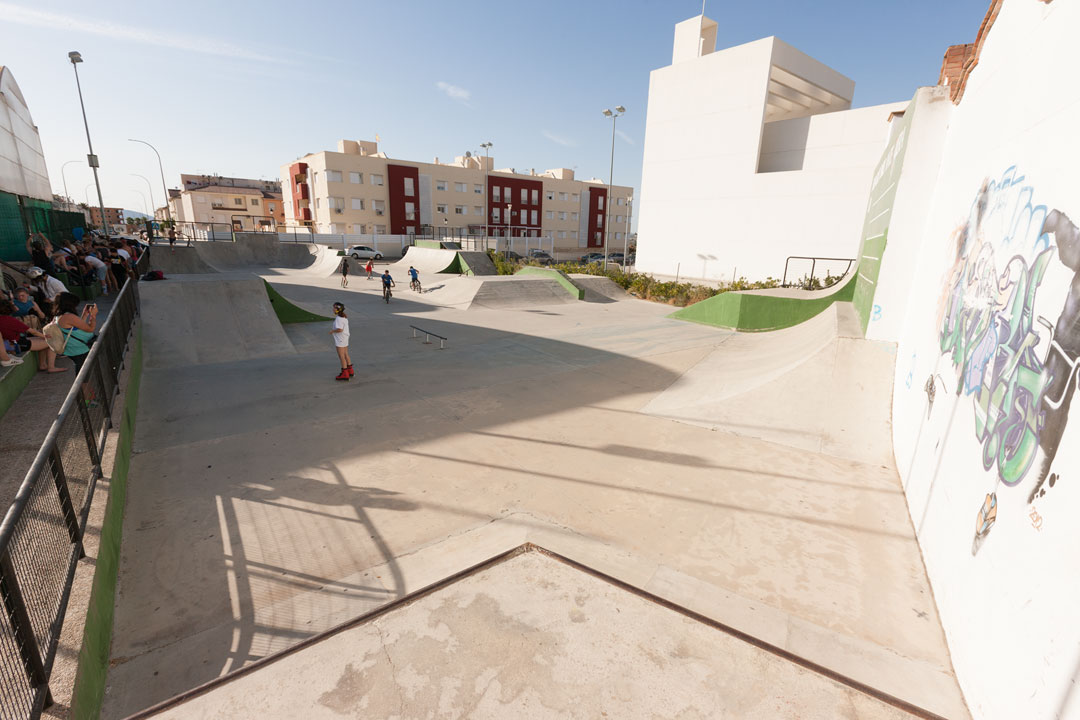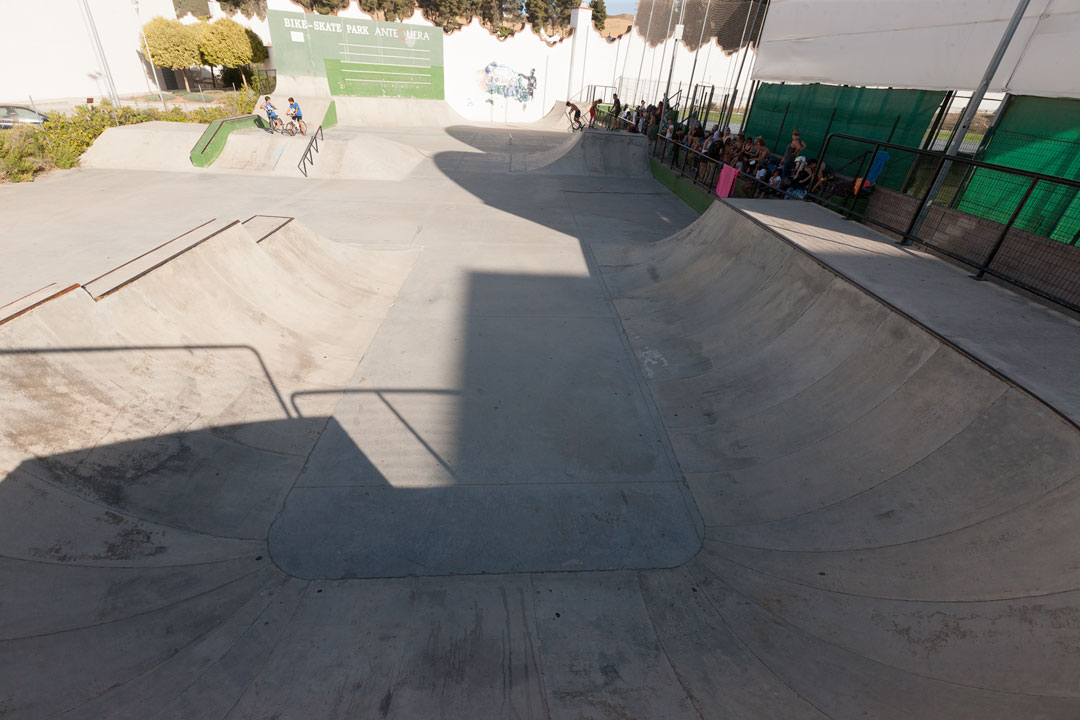 3. San Pedro
Easily the most unique skate park we visit on the tour. This place is Massive! The park is built in the style of a snake run or a downhill slope style. At the top of the park is a bowl/pool section with a nice spine ramp to fly on. Gapping out of the Bowl you enter into the downhill part of the course where your free to choice different ways and lines. Along the way are smaller curb ledges, quarter pipes, a rhythm wave section, banks all terminating into a smaller bowl. If your not feeling like skating the downhill run of the park there are many obstacles like ledges, curbs and banks for you to enjoy.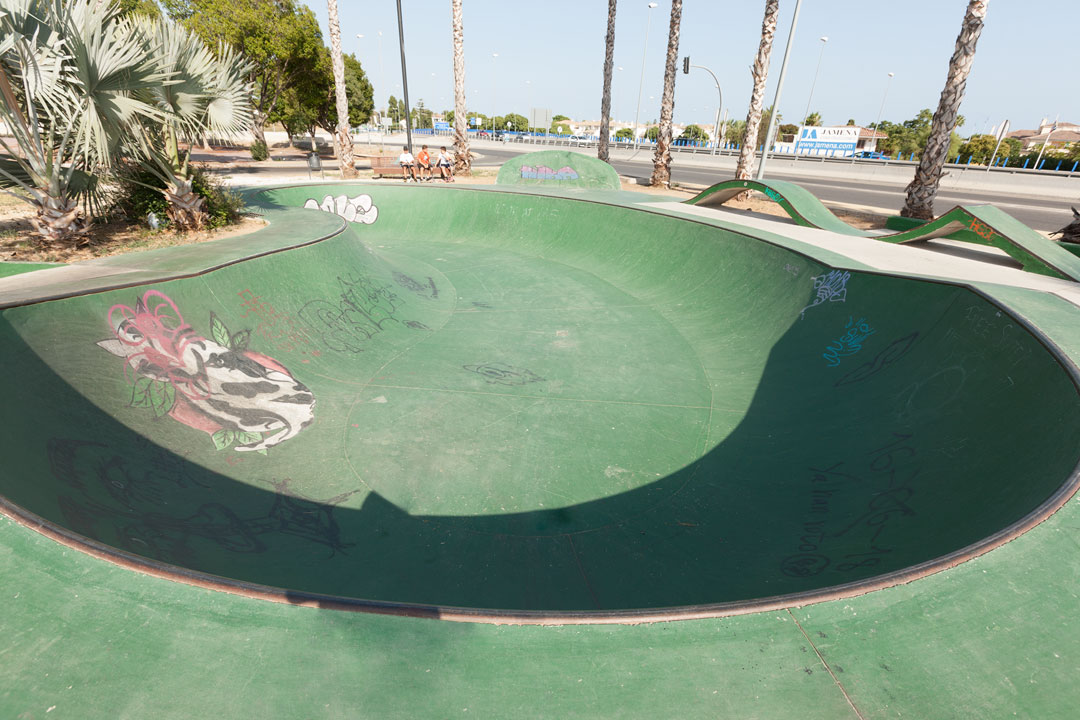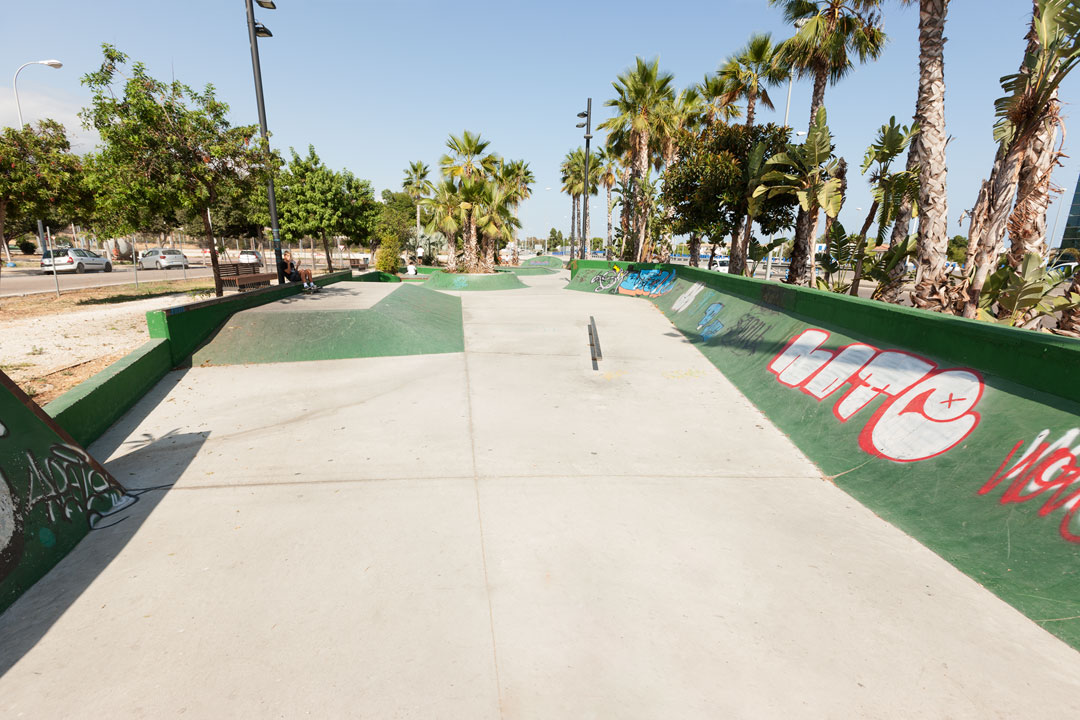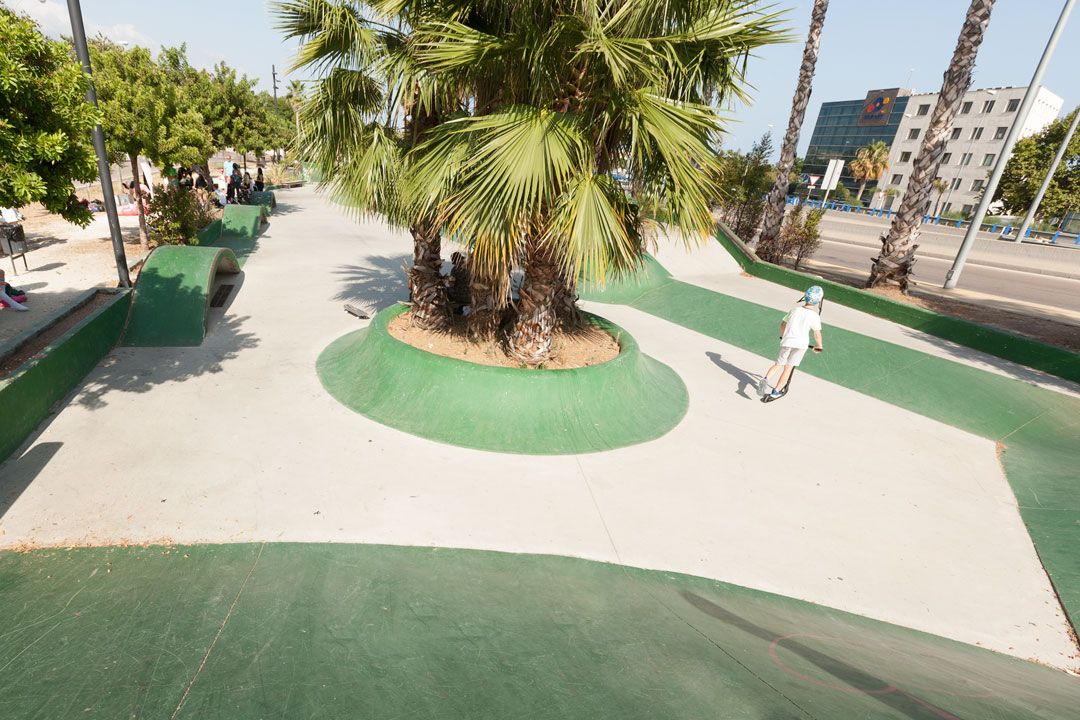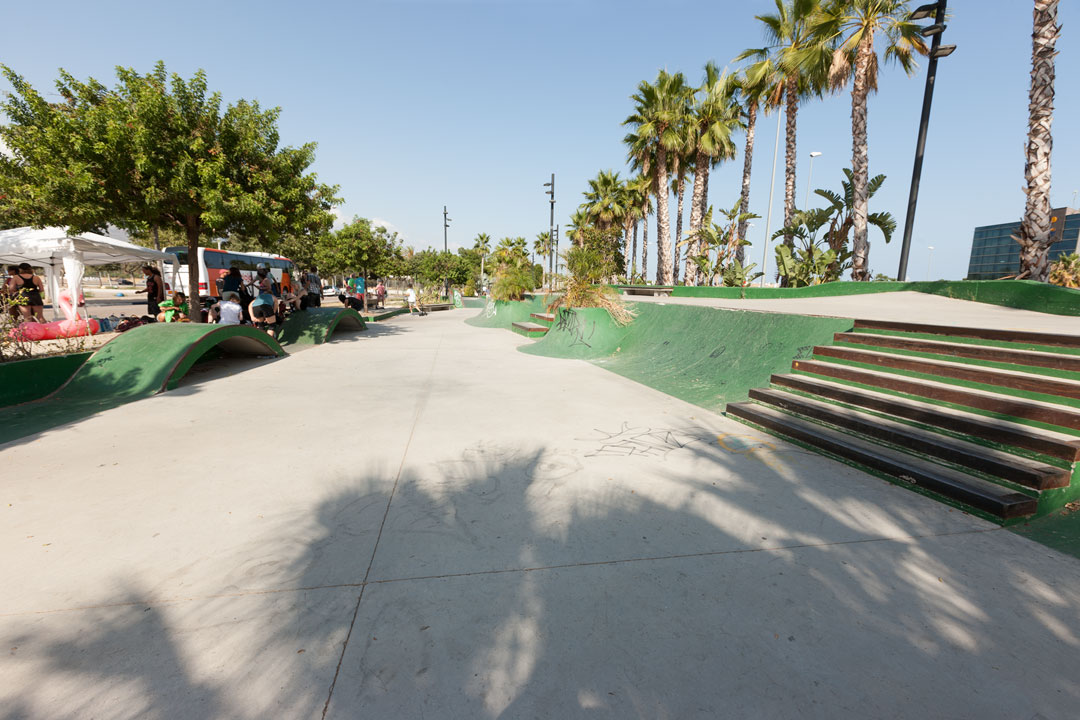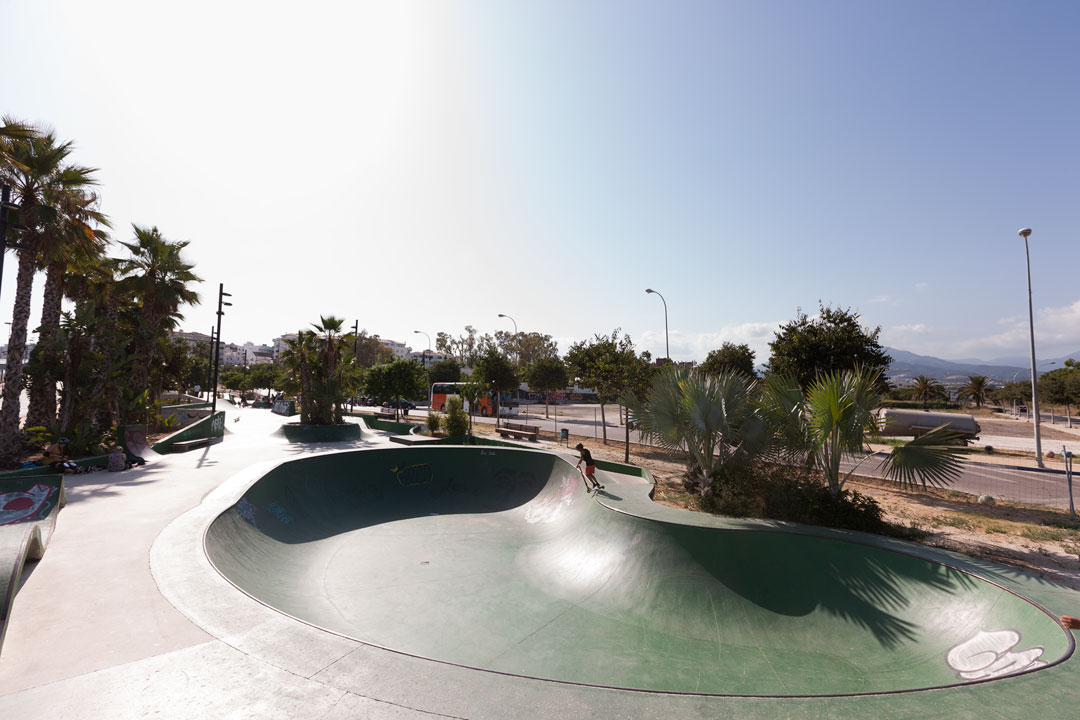 5. Fuengirola
This skate park one of our classics. Built right in front of a Commercial Center with a restaurant in the corner. This park also is enormous with too many obstacles to count. This is a bowl/quarter pipe style skate park with 4 different styles and sized bowls to ride. There are spine ramps to connect all the bowls together. As well, there are equally large street sections with loads of smaller grind boxes, curved ledges and down rails. Lots of launches, banks and quarter pipes all over this uniquely designed park. This is normally every riders favorite park on the tour just because of the variety of cool obstacles to ride and the size and beauty of this skate park.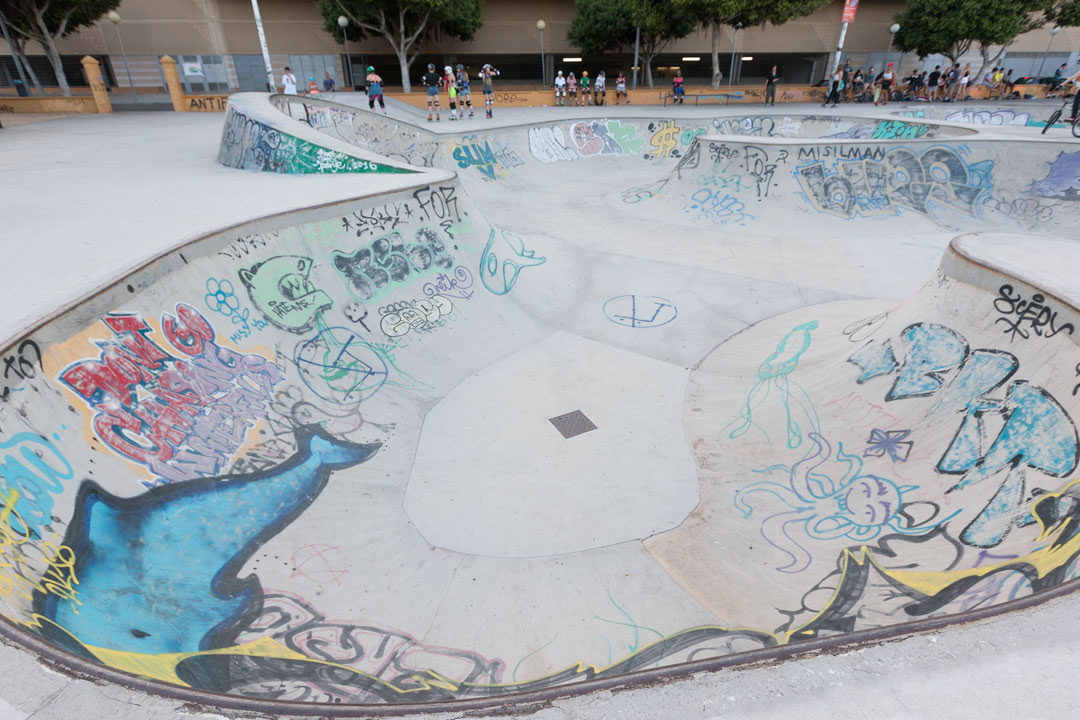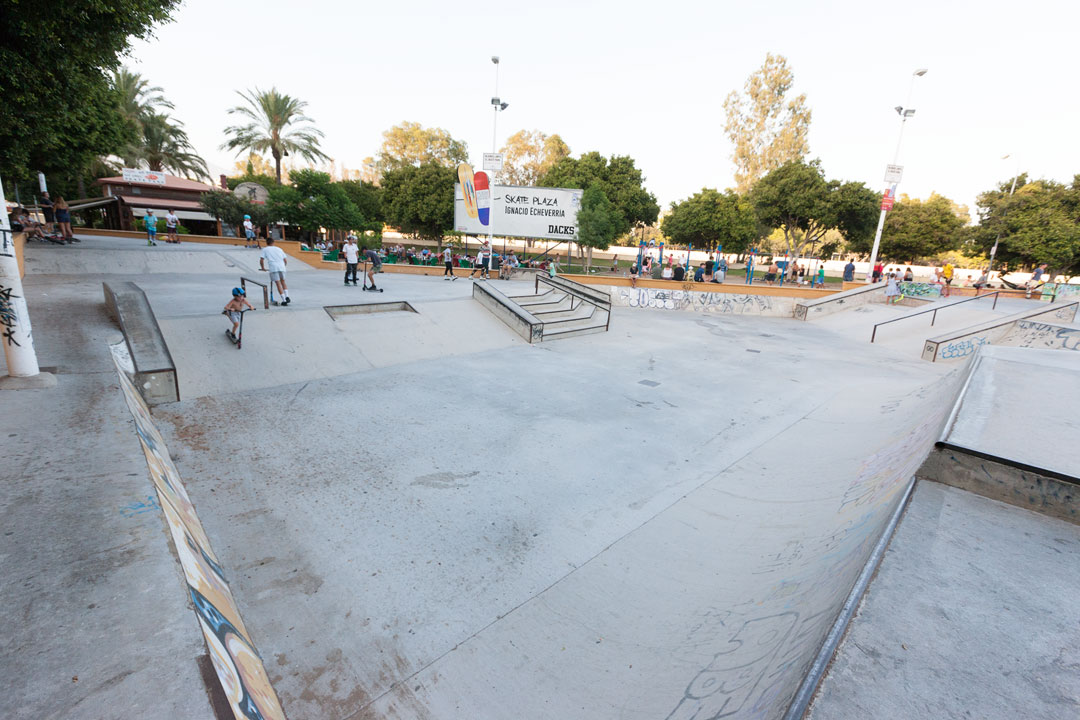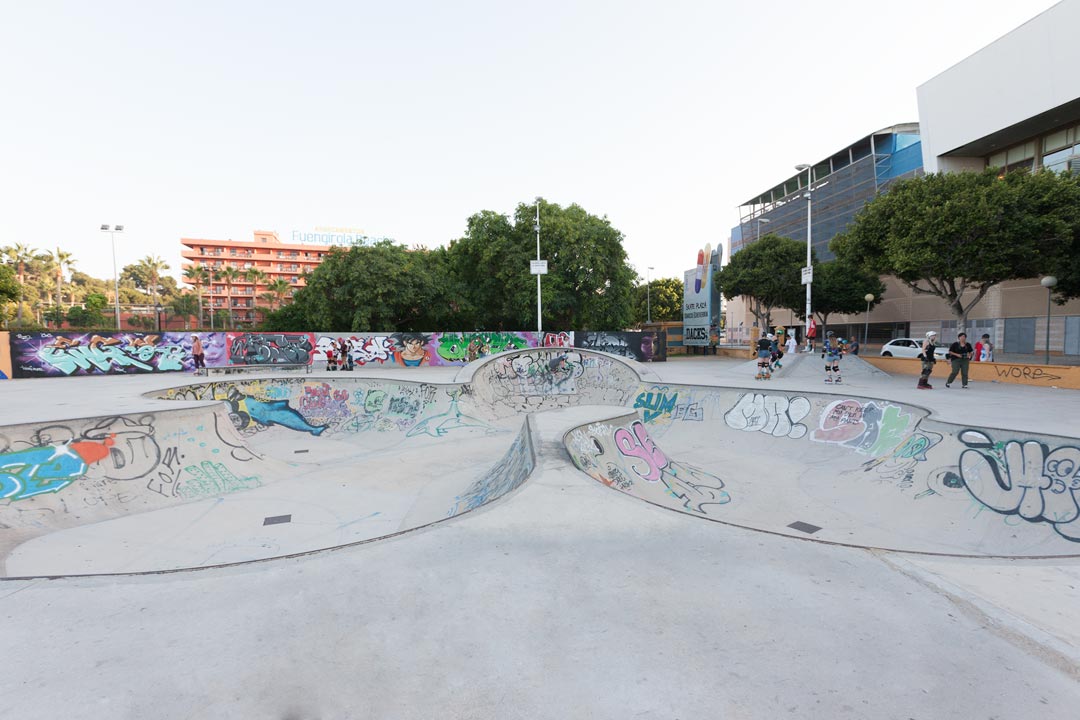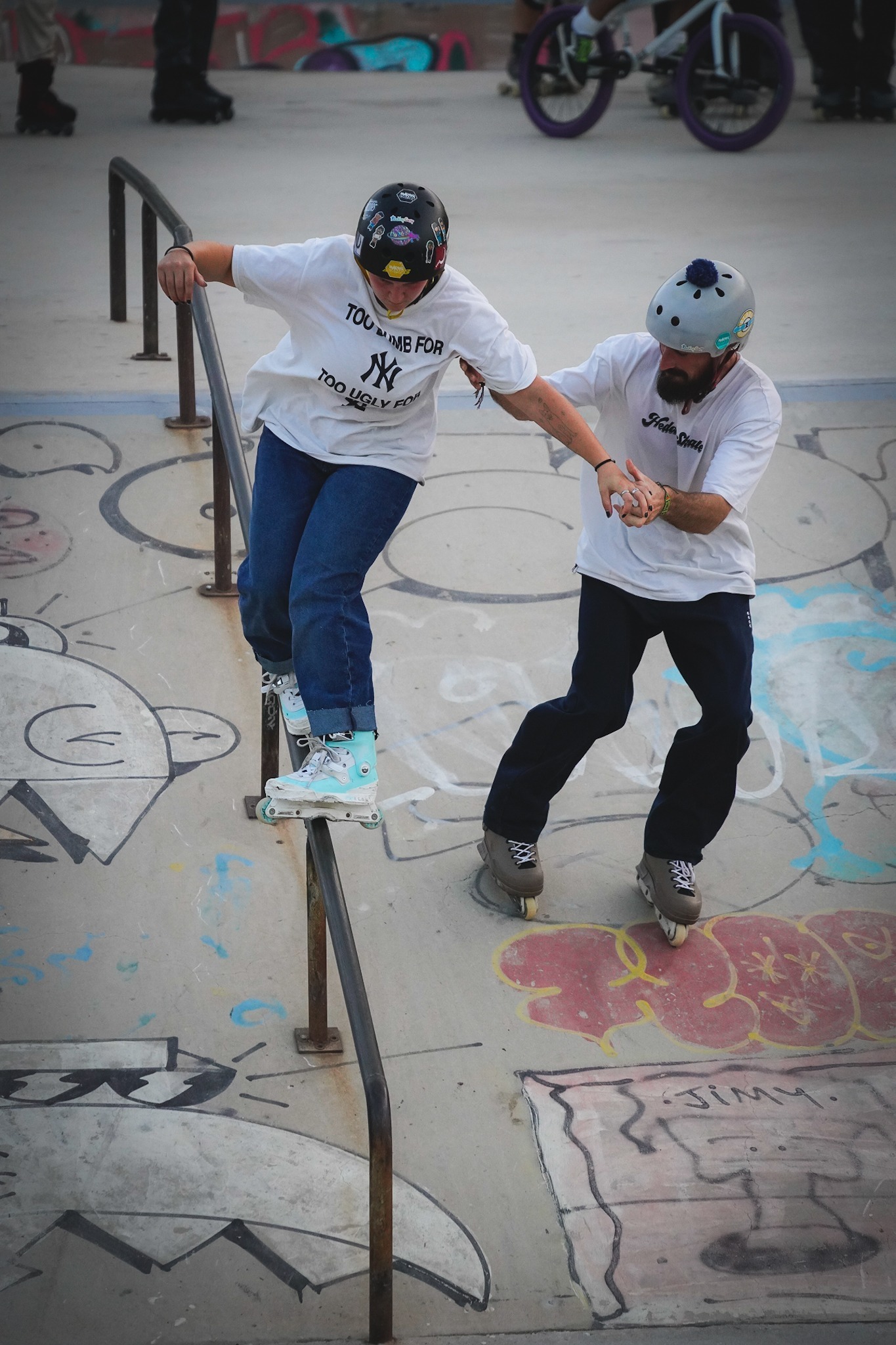 6. Benalmádena
This place is awesome. Another very big skate park we visit. Benalmadena has been completely remodeled and expanded, with new ramps, rails and obstacles added just for you. There is a big bowl set in the center of the skate park with launches in to or out of. There are different sized quarter pipes as well as many ledges to bring. The famous obstacle here is the Wave grind box! Do you think you can conquer it? Many have tried but not many have been able to grind the whole thing. There are also jump ramps, banks to grinds, small practice rails, curved practice rails and a huge quarter pipe to ride! There is a small, curved quarter pipe section with a wall ride all around it. Oh and we cant forget hidden in the share is an enormous vert ramp quarter pipe just asking to be ridden! This place is pure fun!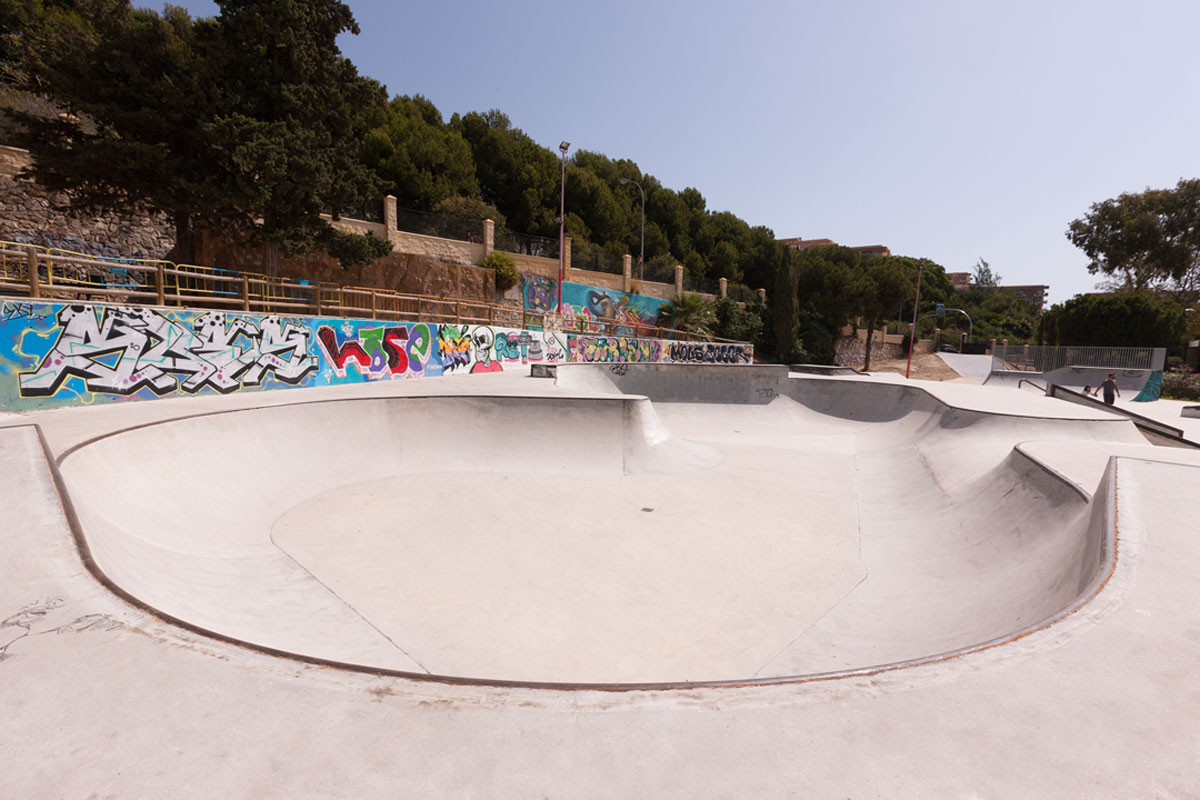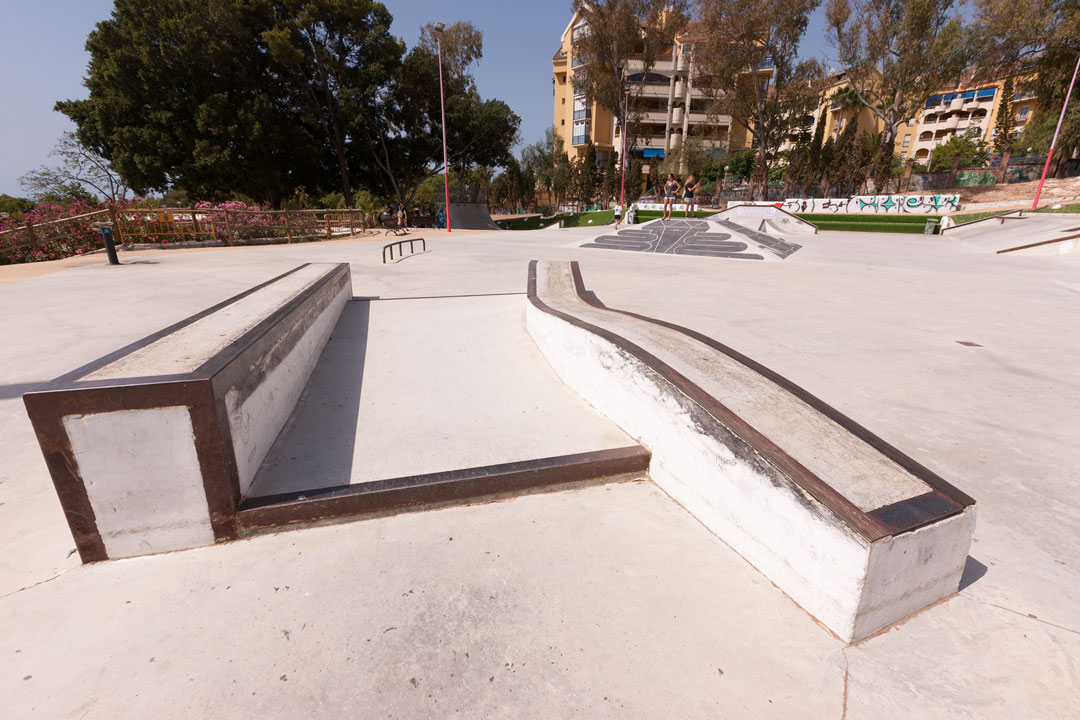 7. Coin
Natures little gem, Coin is a brand new park just outside of Málaga. (We just discovered on accident, thanks Juani) Coin park is set in a big open national park with loads of shade and lots of fresh water. The park is very diverse with different sized quarter pipes and transfers all over the place. There is a basic bank to grind of bank to launch in the center of the park in which the whole skate park flows around. To the side there are two long, stacked one on top of the other curbs. In the corner of this park is a 270 degree bowl to launch out of and a nice transfer from this bowl hip to bank. There are also some square grind rails to practice on. This park is a session park where everyone can ride together and enjoy the beautiful space!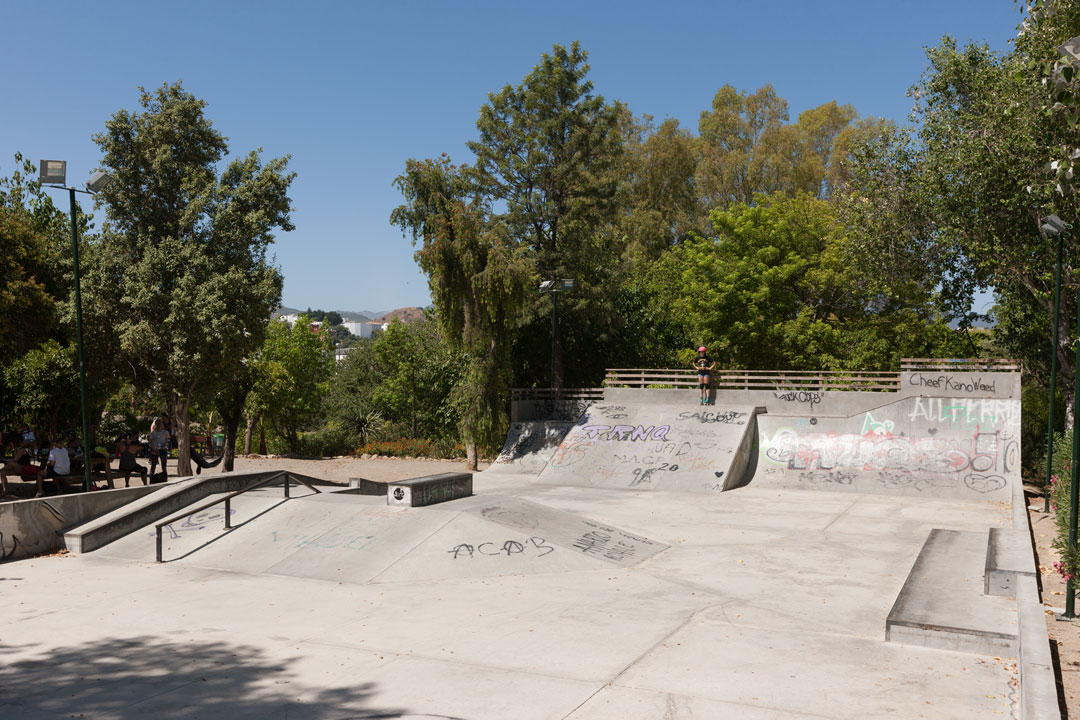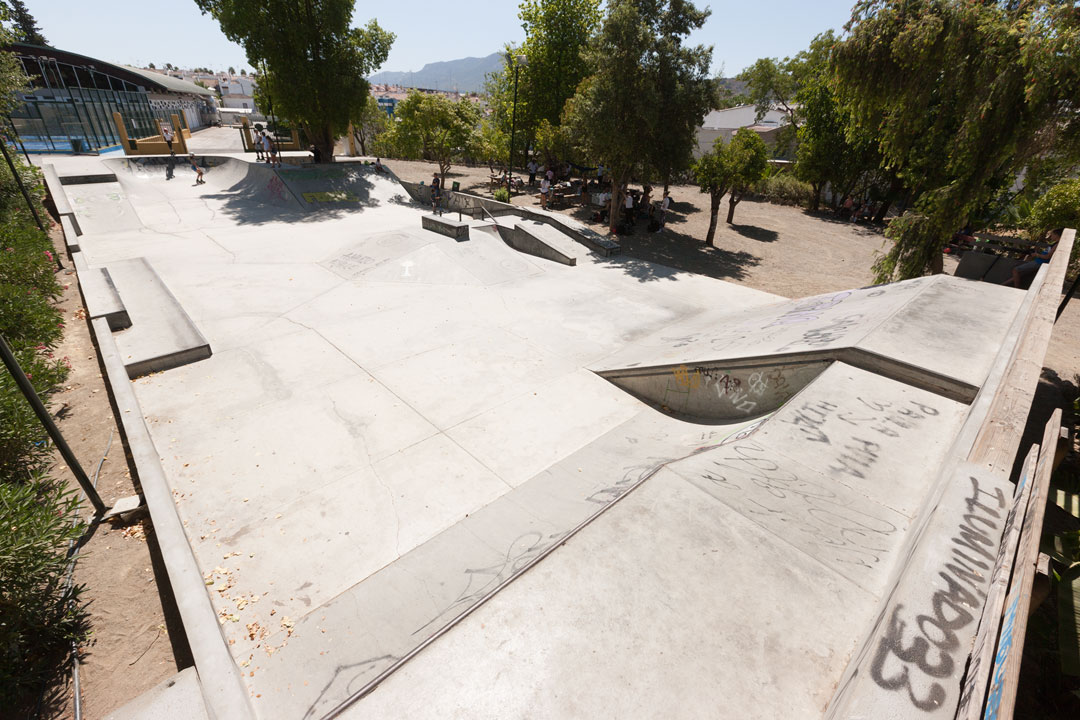 8. Cartama

Cartama skate park that has just been freshly re painted and beautiful re-designed just for us! The artist is a local woman from Cartama who gained her fame from creating a DIY project with a group of friends. The whole skate park is painting in murals of Ancient Rome and traditional Arabic designs. Its a very unique place. Here you will find everything you need to enjoy a skate park. There is a nice mini ramp, a step ledge with 3 heights to play on. A nice up, across and down rail to grind. And various other rails and ledge stuck here and there. This place is cool and a great place for all levels of skaters!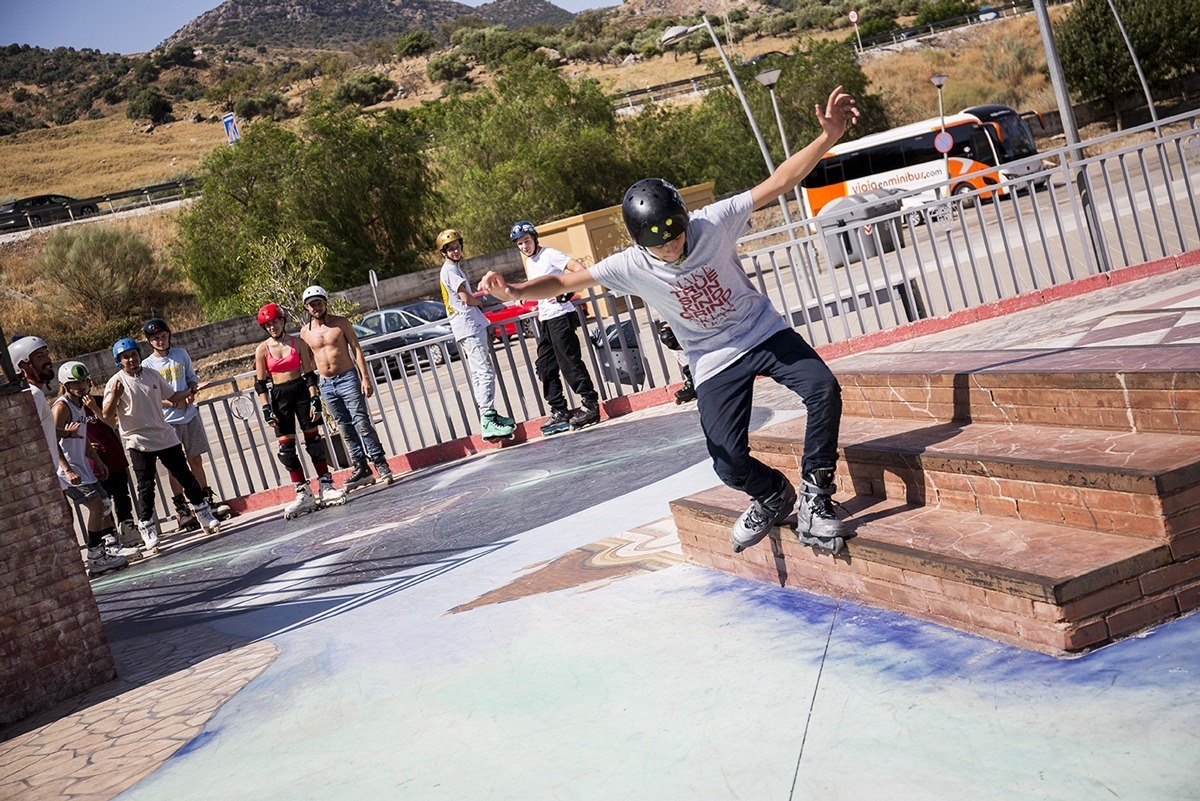 9 . DIY Trash Park
Just behind the Cartama Skate park, hidden in the forest is a "Do it yourself" skate park. Everything in this skate park was made by hand. Each obstacle in itself is a great work of art and the fact that you can skate these obstacles is even cooler! You'll find a cool Cadillac Car to skate, an Effie Tower, and a giant monopoly board. There is so much more but just wait to you get there! Its better than words! Everything beautifully created in this living, skatable work of art. This is a place you will surly never forget and will have you scratching your head and the details and complexity of some of the designs!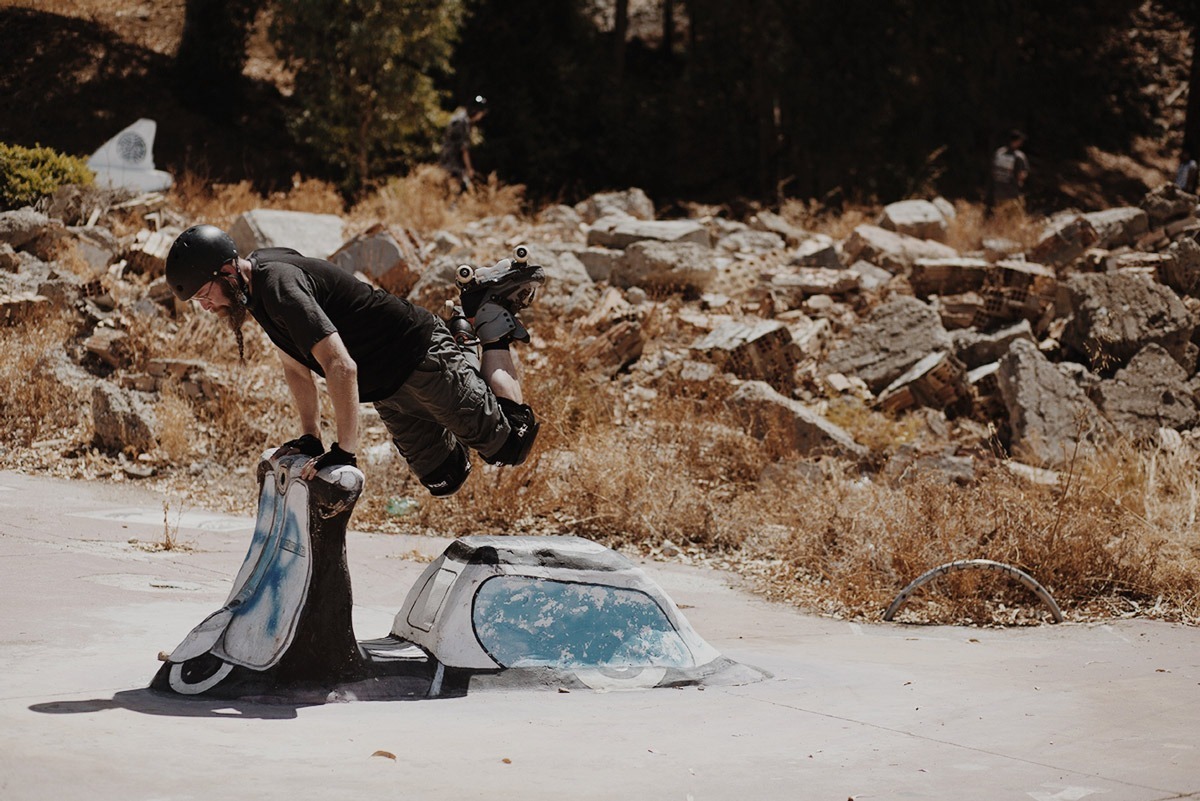 10. La Rincon de Victoria
The place is freaking amazing. For all levels of riders and the most incredible mini ramp ever! As well as the smoothest concret ever. Bowls, Rails, learning ledges, this place is brand new and has a little bit of everything! A new classic blading camp park. We go here every week.


11. Pump Track / Alhaurin
A brand new pump track just outside of Malaga. This place is large with 2 different paths that run parallel to each other. You can choose as you wish which to take! The transitions are well built and within no time you pick up a good amount of speed! There are many jumps and launches and for the more advanced rider there are many transfers and gaps to get loose on! It's so fun. For the beginner this is so perfect to learn techniques of introduction to riding transitions and ramps learning how to pump and uses your knees. Also for a stamina builder this will put you to the test! After a good run you'll be out of breath but be begging to jump back in and take another loop. Love this place


12. Alhaurin Skate Park
Photos coming soon. Check back.
13. Pizarra

This has to be the best new find of 2020. Tucked nicely away in surrounding mountains of Malaga. Pizarra is a brand new park that they finished just before our 2020 season. This park has one of the best made bowls in all of Spain. It's small but the lines are endless. There are many different obstacles here and all well made. The are lots of smaller things to learn on as well as advanced obstacles too. The landscape surround this skate park is breathtaking, and you can bet we plan to ride the park in the afternoon just to be there for the spectacular sun set that lights up all the mountains around us. This part at first glance may seem a little small and weird, but once you start to skate you'll quickly discover its a hidden gem!

14. El Limonar Bowl

This bowl is fun! It's small. Small transitions, small size in general but wow it's constructed well! The coping is perfectly placed for grinds and this makes a great place to learn as well for the advanced riders. This location is in the heart of Malaga and we don't always go here, but if there is time we always try cause its worth all the effort it takes!